Servicios Personalizados
Revista
Articulo
Links relacionados
Compartir
---
versión impresa ISSN 0797-0374versión On-line ISSN 1688-9339
Odontoestomatología vol.21 no.33 Montevideo jun. 2019  Epub 01-Jun-2019
Investigación
The oral component in the representations of the health-disease-care process built by institutionalized youth in the city of Córdoba, Argentina
1PROCON (equipo interdisciplinario de investigación en promoción contextualizada), Carrera de Doctorado, Facultad de Odontología, Universidad Nacional de Córdoba, Argentina. Hayas de la Torre S/N, Ciudad Universitaria, Córdoba, Argentina.marcebarnetche@yahoo.es
2PROCON (equipo interdisciplinario de investigación en promoción contextualizada), Carrera de Doctorado, Facultad de Odontología, Universidad Nacional de Córdoba, Argentina.
---
Health is a social construction built from different interacting dimensions: biological, environmental and social, which interact with people's lifestyles, understood in a broader sense, as a result of decisions taken both individually and collectively.
Objective:
The aim of this research was to know the representations of the health-disease-care process in general and of the oral component in particular held by institutionalized youth housed in socio-educational centers of the Juvenile Criminal Area of the Province of Córdoba, Argentina.
Results and conclusion:
The representations of the health-disease-care process of these youth in confinement include the oral component as part of general health, from experiences of suffering, mainly through physical pain and self-care, but also given its aesthetic importance.
Keywords: adolescents' integral health; oral health; youth; institutionalization
La salud es una construcción social elaborada desde diferentes dimensiones interactuantes: biológica, ambiental y social en interacción, con los estilos de vida de las personas; entendida en un sentido más amplio como resultante de decisiones tomadas tanto en el plano individual como colectivo.
Objetivo:
El propósito de esta investigación fue conocer las representaciones del proceso salud enfermedad atención en general y del componente bucal en particular que poseen los jóvenes en situación de encierro alojados en centros socioeducativos del Área Penal Juvenil de la Provincia de Córdoba, Argentina.
Resultados y conclusión:
Las representaciones del PSEA de estos jóvenes en situación de encierro, incluyen al componente bucal como parte de la salud general, a partir de situaciones de padecimientos, principalmente por el dolor físico y su autoatención, pero también por la importancia estética.
Palabras clave: Salud integral del adolescente; salud bucal; jóvenes; institucionalización
Introduction
Health is a social construction built from different interacting dimensions: biological, environmental and social, which interact with people's lifestyles, understood in a broader sense, as a result of decisions taken both individually and collectively 1. Young people's health is an essential factor in the economic and political process in all countries, especially in disadvantaged nations such as Latin American countries 2. As expressed by the WHO3, the physical, mental and social health of young people is the result of past and present experiences, which act as determinants of well-being in later life. In this sense, events and environments that disturb or favor growth and development during the fetal period, childbirth, childhood and the school stage, among others, are of interest, as they may be positive or have consequences of varying severity when reaching youth.
In turn, while oral health is essential for the quality of life and well-being of each person, it is rarely included in the health-disease-care process, both individually and collectively.
Oral health status affects people's vital functions such as eating, communication, affection, sexuality, among other aspects of a physiological, psychological and social nature4.
The World Health Organization (WHO) 5 considers dental caries and periodontal disease among the most prevalent oral conditions. Craniofacial abnormalities and malocclusions are moderately frequent, while oral soft tissue pathologies, tooth tissue disorders, maxillofacial trauma, and dental fluorosis are of variable frequency.
Most young people in conflict with criminal law who are housed in socio-educational centers in the Juvenile Criminal Area of the Province of Córdoba become familiar with eating, hygiene, and study habits, among others, when entering these establishments. In many cases, it is in these institutions where they go to a dental appointment for the first time, where they express their needs, ailments and experiences of pain. They also state that they have never seen a doctor, let alone a dentist, highlighting the inequalities in access to healthy habits, such as periodic clinical examinations, which can prevent oral diseases 6.
The young people housed in these socio-educational centers can be considered socially vulnerable, which is understood as the result of the combination of various factors: age, gender, social and economic aspects, etc. that prevent subjects/groups from joining development and accessing better conditions of well-being7.
When we think about researching social representations in relation to health and disease, it is interesting to reflect on the concept of health and its significance.
Some authors8 understand the concept of health-disease as a collective of all the social influences and determinants that emerge in the structures and functions of the social groups we are part of. Others9 add that this process integrates biology, ecology, sociology, culture, the experience of each individual and the value they give to life. Lalonde10 introduces the idea of health fields and says that the biology of the human organism, environment and lifestyle are as important as the organization of health services.
Currently, health and disease move from categories opposed to conceptualizations articulated in a dynamic event called health-disease-care process (HDCP)11-12.
Social representations provide visibility to the processes of subjective configuration of reality. These processes are ways of understanding, judging, deciding and acting in the everyday life of individuals in fragments of a given reality, which at the time of becoming vital events, give sense to the subjects' biographies and life stories13.
When talking about interpretations of realities in plural and singular, we assume that reality is not one, but is constructed according to the experiences, perceptions and singularities of the subjects in their collectives. The object of social representations focuses on symbolic interactions that make the senses in human expressions objective, such as places, implicit and explicit agreements, rules, words, lifestyles in agreement and conflict, which make up the way subjects think and feel. Representations are not found in an isolated subject, nor in society as a group of individuals, but are processes and products of intersubjectivity3 13.
Social representations are action guidelines and a framework for reading reality; they are systems of meanings that allow us to interpret social events and actions. They express the relationships that subjects have with each other in their context; they are programs of perception, constructions with a theoretical scope, for which they contain valid knowledge, despite having knowledge that can be demonstrated through logic14.
The concept of social representations was introduced by Moscovisi15, who defined them as a cognitive and symbolic product about a social object created by a group and used to enable communication among the group members16. Social representations are a system of values, ideas and practices that have two functions: human dominance over nature and communication among members of a community18. Jodelet19 defines social representations as the knowledge of common sense. It is knowledge that is built from experiences, also the information, knowledge and thought models that individuals receive and transmit through tradition, education and social communication.
Social representations are presented in varying and more or less complex forms. They are images that condense the meanings, reference systems that allow subjects to interpret what happens to them, and also give meaning to the unexpected. These categories allow subjects to classify the circumstances, phenomena and people with whom they relate. They are theories that allow us to design performance in everyday life, and when we understand them within a specific reality of social life, they are all this combined18.
In this context, the HDCP is a social representation, which is an individual and social construction through which subjects design their suffering, thus conditioning the types of aid to be sought. Feeling healthy or ill is not the same for all individuals: it depends on the geographical area of residence, socioeconomic level, level of education reached, perception of the world, etc. Each social group has a conception of what it is to be healthy or ill, which are the positive or negative behaviors for their health, and this determines whether or not the individual feels the need to apply the practices they have built as healthy20. According to the culture and organization of a given society, a subject develops different concepts about health, disease and how to alleviate it, as well as prevention and health promotion actions21. Kleinman22 integrates the concepts of disease, illness and sickness, pointing out that sickness is a social and cultural connotation, and that disease and illness are socially constructed, where illness precedes sickness, and is how the subject perceives, expresses and contends in the disease process. Some authors22-23 emphasize the subjectivity of individuals regarding illness, disease, and how experience and meanings are modulated according to social structure. Others24 suggest that biological and psychological states are related in the disease process, while illness is within the domain of language and meanings, so they make up the experience.
Understanding the subjective experiences that the subject goes through helps to understand the complexity of the health-disease-care process, so the role of culture and social relationships must be considered. Globally, there is little information about youth representations on the HDCP. In this regard, in the region, Lucero25 states that since there are different youths, their representations are regulated by their own contexts.
A holistic view is needed to understand and solve the complex processes involving health in order to improve people's existence. This is why the aim of this research was to know the representations of the health-disease-care process in general and of the oral component in particular held by youth housed in socio-educational centers of the Juvenile Criminal Area of the Province of Córdoba, Argentina. The information collected will help build contextualized strategies for health care and promotion in this age group in this particular context.
Methodology
A qualitative study was conducted considering the regulations of the Council for International Organizations of Medical Sciences26. The work protocol (Fig. 1) was approved by the Advisory Council of the Doctoral Degree of the School of Dentistry of Universidad Nacional de Córdoba (UNC). To have access to the representations on HDCP in general, and on oral health status in particular, of young people institutionalized in socio-educational centers of the youth detention centers in the Province of Córdoba, a scripted interview27 was conducted with 32 young people, aged 14 to 18, of both sexes, institutionalized for at least six months in the socio-educational centers of Complejo Esperanza. The complex includes a 52-hectare plot outside the common land of the City of Córdoba; at km 14.5, on Camino de 60 cuadras, where there are four educational centers: Module I (formerly Horizons), Module II (formerly Nuevo Sol), Module III (formerly Pasos de Vida), Module IV (formerly San Jorge), which house males aged 12 to 20, in conflict with criminal law from the Province of Córdoba The center that houses young women in these circumstances is CESAM, which is currently located in Nueva Córdoba neighborhood in the city.
The interviews were conducted by a single researcher individually, on one day and in the offices of the technical teams (psychologists and social workers) of the different centers. They lasted 50 minutes. The thematic guidelines derived from the objectives of the research and the evolution of the interview were permanently in sight: sociodemographic profile, work history, leisure time, peer group, family group, customs, contextual cultural patterns, internalized perception of the body itself (real and ideal), substance consumption, health-disease-care process. The interviews were recorded, and simultaneously, during the microsituation, fieldnotes were taken to record impressions, sensations, attitudes and characteristics of the young people.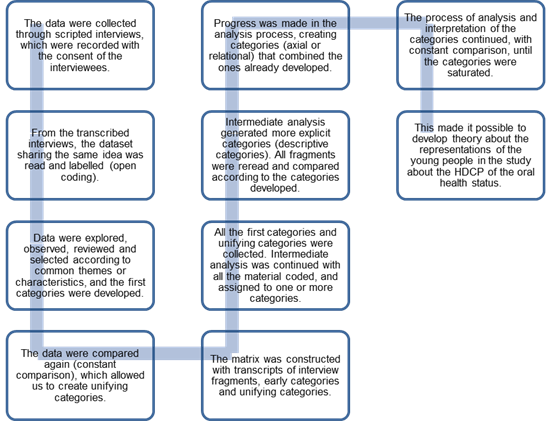 Then the lead researcher obtained the specific corpus with the verbatim transcript after transcribing the interviews.
Information was analyzed according to the Grounded Theory28. The process of data collection, processing, and analysis was performed as shown in figure 1.
Finally, alphanumeric codes were used to show the cases that support the results presented in this study.
Referencias
1. Barnetche MM. Calidad de vida y proceso salud enfermedad atención a nivel del componente bucal en jóvenes alojados en centros socioeducativos del Área Penal Juvenil de la Provincia de Córdoba. Tesis doctoral; en línea. Facultad de Odontología. Universidad Nacional de Córdoba. 2017 (Fecha de acceso: 27 de octubre de 2017). Disponible en: Disponible en: https://rdu.unc.edu.ar/handle/11086/4994 . [ Links ]
2. Tuesca-Molina R, Centeno-Romero H, Salgado MO, García-Delgado N, Lobo- López J. Calidad de vida relacionada con la salud y determinantes sociodemográficos en adolescentes de Barranquilla (Colombia). Rev Sal Univ 2008; 24 (1):53-63. [ Links ]
3. Organización Mundial de la Salud. Documentos Básicos (en línea) 48a ed. Italia: Organización Mundial de la Salud; 2014.p.1. (Fecha de acceso: 20 de marzo de 2015). Disponible en: Disponible en: http://www.who.int/es [ Links ]
4. Luengas I. Tendencias en la formación de odontólogos en la universidad pública en México, en el contexto de la globalización, 1986-2001: una lectura ética. Tesis doctoral. Universidad Nacional Autónoma de México. 2004. [ Links ]
5. Organización Mundial de la Salud. Nota informativa N° 318 (en línea). 2012 (Fecha de acceso: 1 de febrero de 2016) Disponible en: Disponible en: http://www.who.int/mediacentre/factsheets/fs318/es . [ Links ]
6. Barnetche MM. Factores de riesgo de salud en adolescentes con restricción de la libertad en establecimientos correccionales de la Ciudad de Córdoba. Tesis de Maestría. Escuela de Salud Pública. Facultad de Ciencias Médicas. Universidad Nacional de Córdoba; 2009. (Fecha de acceso: 20 de diciembre de 2014) Disponible en: http://fcm.biblio.unc.edu.ar/cgi-bin/koha/opac-detail.pl?biblionumber=18625 [ Links ]
7. Pizarro R. La vulnerabilidad social y sus desafíos: una mirada desde América Latina. Chile: CEPAL (en línea); 2001.p.5-16. (Fecha de acceso: 19 de abril de 2016). Disponible en: Disponible en: http://repositorio.cepal.org/bitstream/handle/11362/4762/S0102116_es.pdf [ Links ]
8. San Martin H, Pastor V. Economía de la Salud. Mc Graw Hill; 1989.p.42-49. [ Links ]
9. Suarez R. Salud - enfermedad: una categoría a repensar desde la antropología. En: Suarez R. Reflexiones en salud: una aproximación desde la antropología. Bogotá: Universidad de los Andes; 2001. p. 11-21 [ Links ]
10. Lalonde, M. A new perspective on the health of Canadians. A working document. Ottawa: Governmet of Canada (en línea); 1981.p.5-7 (Fecha de acceso: 25 de agosto de 2012). Disponible en: Disponible en: http://www.phac-aspc.gc.ca/ph-sp/pdf/perspect-eng.pdf [ Links ]
11. Iriart C, Waitzkin H, Breilh J, Estrada A. Merhy EE . Medicina social latinoamericana: aportes y desafíos. Rev Panam Salud Publica (en línea). 2002 (Fecha de acceso: 27 de marzo de 2016); 12(2):128-36. Disponible en: Disponible en: http://www.unida.org.ar/Bibliografia/documentos/Salud%20Comunitaria/M4/BiblioM4/MEDICINASOCIAL.pdf [ Links ]
12. Granada Echeverry P. El campo de la salud como espacio de construcción simbólica. Rev. Ciencias Humanas. 1999; 6 (20): 1-8. [ Links ]
13. List T, Wahlum K, Wenneberg B, Dworkin S.TMD in children and adolescents prevalence of Pain Gender differences, and perceived treatment need. J. Orofacial Pain. (en línea) 1999; 13(1): 9-20. [ Links ]
14. Botero Gómez P. Representaciones y ciencias sociales: una perspectiva epistemológica y metodológica. Bs As: Ed. Espacio; 2008.p.15-61. [ Links ]
15. Vergara Quinteros MC. Representaciones Sociales en Salud que orientan la experiencia de vida de algunos grupos de jóvenes de la Ciudad de Manizales. Tesis Doctoral. (en línea) Universidad de Manizales- CINDE, Colombia; 2006 (Fecha de acceso: 20 de enero de 2016). Disponible en: Disponible en: http://repository.cinde.org.co/handle/20.500.11907/561 [ Links ]
16. Moscovisi S. Psychoanalyse: Its image and its public. (en línea) USA: Polity Press; 2008.p.54-69. [ Links ]
17. Rizo García M. La intersubjetividad como eje conceptual para pensar la relación entre comunicación, subjetividad y ciudad, en línea. Rev Razón y Palabra.2005. Fecha de acceso: 5 de marzo de 2016. Disponible en: Disponible en: http://razonypalabra.org.mx/anteriores/n47/mrizo.html [ Links ]
18. Winkler MI. Representaciones sociales y prácticas mágico-religiosas en una comuna urbana. Rev Psyche, en línea, 1999; 8(1): 83-91. Fecha de acceso: 2 de enero de 2016. Disponible en: Disponible en: http://www.psykhe.cl/index.php/psykhe/article/view/404/384 [ Links ]
19. Jodelet D. Seminario de Representaciones sociales. Centro Universitario de Ciencias de la salud. Universidad de Guadalajara; 1997 [ Links ]
20. Sacchi M, Hausberguer M, Pereyra A. Percepción del proceso salud enfermedad atención y aspectos que influyen en la baja utilización del Sistema de Salud, en familias pobres de la Ciudad de Salta. Salud Colectiva. 2007; 3 (3):271- 283. [ Links ]
21. Burak SD. Adolescencia y juventud. Viejos desafíos en los albores del nuevo milenio. En: Burak SD (comp).Adolescencia y juventud en América Latina. Libro Regional Universitario. Costa Rica: Ed. Tecnológica; 2001.p.20-36. [ Links ]
22. Kleinman, A. Patients and healers in the context of culture (en línea). Berkeley University Press; 1980.p.24-70. (Fecha de acceso: 5 de enero de 2016). Disponible en: Disponible en: https://journals.google.com.ar [ Links ]
23. Castro R. The subjective experience of health and illness in Ocuituco: a case study. Soc Sci Med (en línea) 1995 [ Links ]
24. Moreno Altamirano L. Reflexiones sobre el trayecto salud-padecimiento-enfermedad-atención: una mirada socioantropológica Salud Pública de México (en línea) 2007 (Fecha de acceso: 20 de julio de 2015); 49(1):63-70. Disponible en: Disponible en: http://www.scielosp.org/pdf/spm/v49n1/a09v49n1.pdf [ Links ]
25. Lucero MF. Representaciones sobre salud/enfermedad/ atención construida por adolescentes de la Ciudad de Córdoba, Argentina. Tesis Doctoral. Facultad de Odontología. Universidad Nacional de Córdoba. 2013. [ Links ]
26. Consejo de Organizaciones Internacionales de las Ciencias Médicas (CIOMS)/OMS Pautas éticas internacionales para la investigación biomédica en seres humanos. Ginebra; 2002. [ Links ]
27. Yuni J, Urbano C. Técnicas para investigar y formular proyectos de investigación. Vol.2. 2ª ed. Córdoba. Brujas; 2006. [ Links ]
28. Strauss A, Corbin J. Grunded Theory Research: Procedures, Canonsm and Evaluative Criteria. Rev Qualitative Sociology (en línea) 1990; 13 (1):3-21. (Fecha de acceso: 17 de noviembre de 2014) Disponible en: Disponible en: http://med-fom-familymed-research.sites.olt.ubc.ca/files/2012/03/W10-Corbin-and-Strauss-grounded-theory.pdf [ Links ]
29. Barnetche MM, Cornejo LS. Experiencia de caries y calidad de vida de jóvenes en situación de encierro. Rev. Salud Pública (en línea) 2016; 18 (5): 816-826. (Fecha de acceso: 20 de julio de 2017)Disponible en: http://dx.doi.org/10.15446/rsap.v18n5.45565 [ Links ]
30. Barnetche MM, Cornejo LS. Impact of oral health on the quality of life of young people in confinement, Córdoba, Argentina: A mixed methods study. J Oral Res (en línea) 2017 (Fecha de acceso: 20 de julio de 2017). Disponible en: doi:10.17126/joralres.2017.xxx [ Links ]
31. Barnetche MM, Cornejo LS. Oral Health of institutionalizad youth in socio-educational centers of the department of corrections in Córdoba City, Argentina. Rev. Acta Odontol.Latinoam. (en línea) 2017, 30 (3) pp.129-140. [ Links ]
32. Menéndez E. De sujetos saberes y estructuras: introducción al enfoque relacional en el estudio de la salud colectiva. Buenos Aires: Lugar Editorial; 2009.p.25-72. [ Links ]
33. Huerta Alvarado SG. Reflexión medico antropológica, desde la perspectiva de Pierre Bordieu para la atención del enfermo renal. Rev Hospital Gral. M Gea Gónzalez. (en línea) 2001; 4(4): 127-129. (Fecha de acceso: 20 de enero de 2016) Disponible en: Disponible en: http://www.medigraphic.com/pdfs/h-gea/gg-2001/gg014i.pdf [ Links ]
34. Menéndez E. Modelos de atención de los padecimientos: de exclusiones teóricas y articulaciones prácticas. Ciência Saúde Coletiva. 2003; 8(1):185-207. [ Links ]
35. Herzlich C, Pierret J. De ayer y hoy: construcción social del enfermo. Cuadernos médicos sociales; 1988.p. 21-30. [ Links ]
36. Viveros M. La noción de representación social y su utilización en los estudios sobre salud y enfermedad. Revista Colombiana de Antropología. 1993; 30:237-260. [ Links ]
37. Comes Y. Tesis para Optar el Doctorado en Psicología - Universidad de Buenos Aires; 2006. [ Links ]
38. Menéndez E. Hacia una práctica médica alternativa. Hegemonía y autoatención (gestión) en salud. México: CIESAS, Colección Cuadernos de la Casa Chata; 1983. [ Links ]
Received: August 24, 2018; Accepted: February 20, 2019
 Este es un artículo publicado en acceso abierto bajo una licencia Creative Commons